Huge Affiliate Marketing Challenge By Tyler Cruz & Market Leverage
September 5, 2008 - Written by Gyutae Park
It looks like our friend Tyler Cruz has his hands full this month. Not only is he competing in our Affiliate Marketing Showdown (which concludes next week), but he is now running another one of his popular Market Leverage challenges where you can get involved with affiliate marketing and earn some killer prizes.
Market Leverage is a fantastic up and coming affiliate network that has used some creative marketing techniques in the past. Remember all the Winning the Web t-shirts that they bought up? That got them some great exposure I'm sure. Now Tyler and the folks at Market Leverage have partnered up to run a contest with over $10,000 in prizes. Wowzers.
You're only eligible for the contest if you were referred to Market Leverage by Tyler. If you're new to the network, you can sign up using one of Tyler's affiliate links on his contest post. For existing Market Leverage affiliates not referred by Tyler (like me), you won't be able to take part in this event. It's most likely because Tyler has to track and confirm earnings – and also because Tyler is a greedy bastard. 😛
Basically how it works is this:
Sign up for Market Leverage under Tyler if you haven't already done so.
Earn as much as you can from now until September 30, 2008 using Market Leverage offers. Tyler has a box on the right sidebar of his blog that keeps track of the standings daily.
There are 4 different prize categories. Those for existing affiliates, new signups, super affiliates (make over $50k a month), and bloggers who make posts about the contest (yay, at least I'm eligible for something here).
All in all, this seems like a great contest with some amazing prizes. If you're new to affiliate marketing and finally want to give it a shot, or if you're a super affiliate who wants to dominate your competition, now's your chance! Check out the full contest rules here: Affiliate Marketing Challenge 3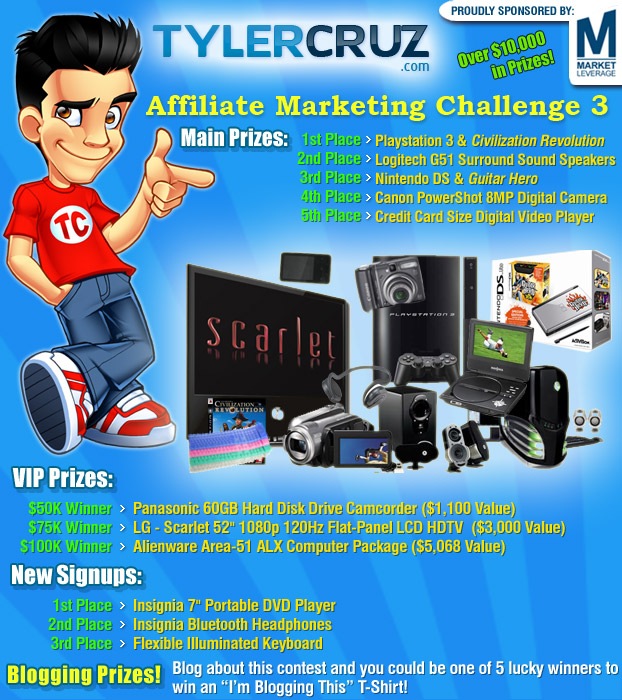 If you like this post,
subscribe to the RSS feed
. Get the latest updates delivered straight to your email or news reader.